2013 DAT Breakdown – 26/25/22 by jimmpannzee
FREEDOM AND SUCCESS NEVER FELT SO GOOD. Never have I been so proud of my accomplishment before! I studied for about 3 weeks (215 hours) and took the DAT 1/7/2013. Here are my unofficial scores!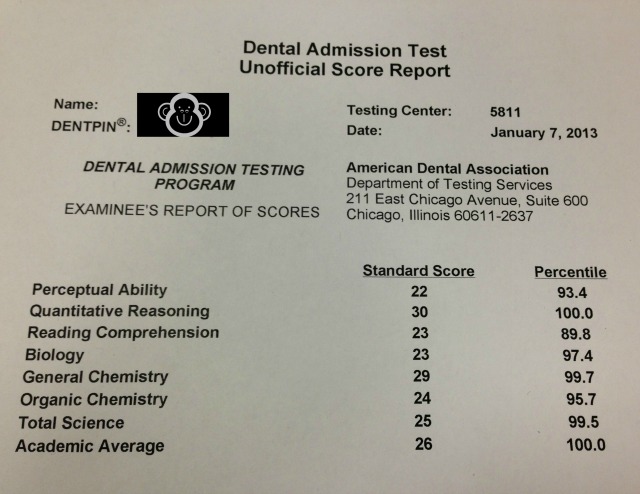 PAT 22 (93.4%)
QR 30 (100%)
RC 23 (89.8%)
BIO 23 (97.4%)
GC 29 (99.7%)
OC 24 (95.7%)
TS 25 (99.5%)
AA 26 (100%)
Background: I am a Biology Major in my second year at Texas A&M College Station and will graduating in 2014. I currently have a Science GPA of 3.87 and an Overall GPA of 3.91. Do not let my GPA and scores throw you off! I truly believe that if you put your mind to it, you can accomplish anything. I would say that the DAT requires 10% luck, 20% brain and 70% HARDWORK. In my opinion, the best time to take the DAT is right after taking classes corresponding to the DAT. I took both Bio and GC in my freshmen year, Organic I in the summer and Organic II fall semester. I was ready to tackle the DAT as soon as fall finals were through and begin studying in the winter break. Classes I thought were particularly helpful and gave me an edge in studying were: Intro to Biology I&II, Intro to Chemistry I&II, Organic I&II, Intro to Psychology, Statistics, Molecular Cell Biology, and Intro to Genetics. I do not think an extra Biology class is as beneficial to your TS score as to taking the DAT early while the science classes are still fresh in your head, but everyone is different. One of the best ways to prepare for the DAT is to do well in your science classes; work hard in college and it will pay off as you study for the DAT! 

Materials:
Cliff's AP Biology (3rd Edition) $12
Barron's AP Biology (3rd Edition) $11
Chad's Videos (30 Days) $40
DAT & MATH Destroyer $200
DATQVault (All Subjects) $100 
Crack DAT PAT (Ace Edition) $103
Kaplan Blue Book (7th Edition) $45
Topscore $55 
Achiever $70 
Old College Books and Notes "Free"
SDN, 2007 ADA, Khan's Academy Free
Yes studying for the DAT can be expensive, but so is dental school! Compared to Kaplan Course, the materials I used is a steal! Don't be cheap and don't regret anything, but be wise when choosing your study materials. I did not write in my books; I used sticky notes to take my quizzes and made myself separate test forms to write my answers on so that I can resell my books later. Any way to save money! 
Studying: I'm the type of person who likes to work towards a goal by taking it one day at a time. Strangely enough, I do well when I cram as much knowledge as I can within a given time frame. I thought that by studying over a prolonged period of time, would make me lose my knowledge rather than improving, but everyone is different. Make sure you know what type of study habits work best for you and use it to your advantage. I was very determined to ace the DAT through sheer hard work and perseverance. As for my social life, I did not want any distractions from school and friends because a test as important as the DAT requires a great deal of focus. As a person who gets easily distracted, this meant no hanging out with friends, no gaming, no texting, no Facebook, no guitar, and a very bland winter break for me. I made a DAT Dropbox folder so that everywhere I went I had the option of studying on the go. It was quite a miserable and exhausting winter break, but the sacrifice was well worth it! Attached is a 3 week schedule I made for myself–I call it the 3 Week Express. Feel free to adapt the schedule to your needs. Managing my own schedule made me feel that I was fully in control of my studying and my future. Only you know yourself the best, so set realistic and achievable goals you know you can accomplish. I amassed over 215 hours, averaging anywhere from 8-12 hours a day. I also attached an excel sheet, the same one I used to organize myself and to track my overall progress. Know where you want to go and how you plan on getting there; a goal is useless without having a good plan. Week 1 EXPOSURE: This week consisted of reviewing Biology by reading through both Cliff's and Barron's, watching Chad's videos for GC, OC, and QR, learning how each section of the PAT worked by reading KBB, and finding methods and techniques for the PAT and RC on SDN.
Week 2 EXPERIENCE: After exposing myself to a general idea of how each section worked, I dove right into taking practice tests, using QVault, DAT Destroyer, Crack DAT PAT, and Math Destroyer. Every day was basically a mini DAT test and each day consisted of reviewing one major area of each subject. After three days I took my first Test Bundle (Topscore + Achiever) to see where I stood. 
Week 3 EXCELL: I continued practicing, reviewing concepts and taking Test Bundles once every 3-4 days while tracking my improvements and weaknesses in my excel sheet. Improvement does not happen overnight. I spreaded out my Test Bundles where I had time to review concepts I was weak in before attempting the next practice test. Identify areas of weakness and master it. By the end of week three, I had gone over all of QVault test, all CDP tests, 10 Math Destroyer tests, ran through DAT Destroyer a second time and finished all practice tests. 
Week 4 EXECUTE: Apply all of your knowledge and show the world how hard you studied!
BIO (23): Studied with Cliff's and Barron's; Practiced with QVault and DAT Destroyer; Supplemented with Campbell, Khan's Academy and old class notes
The difficulty in Biology stems from the massive breadth and depth the subject has. Both AP books are very useful in covering most of the concepts found on the DAT. I recommend reading both as each book has its strength and weaknesses. Whatever is lacking in one book, the other one compliments it. I am more of a visual learning and preferred Barron's as it had more pictures and diagrams I could relate to. The end-of-chapter questions found after each chapter are useful in identifying areas of weaknesses; I went over them twice and focused more on chapters I was weak on. There are a total of 5 AP tests each consisting of 100 problems found in the back of the books. I only got through 3 of them, but I suggest doing all of them if you have time. Qvault Bio was used to practice on timing and exposure to more questions. I saved questions I missed to go over again later. DAT Destroyer was difficult, but good at presenting main concepts presented in the solutions manual. I marked all questions I missed during the first Destroyer run and went over it again in the third week. 
Testing: The questions I got ranged between common sense-laugh-out-loud easy to strangely specific. The key to doing well is to be able to recognize the myriad of biology key words and being able to eliminate erroneous answer choices. There was only one question I couldn't recognize and had to flat-out guess, but the majority I say can be solved if you think calmly and recall your knowledge.
GC (29): Studied with Chad; Practiced with QVault and DAT Destroyer; Supplemented with old class notes
General Chemistry is my least favorite science class. Not as wide ranging as Bio, but make sure you master each of the major topics presented by Chad. Chad knows his stuff and I thought he did an excellent job explaining concepts as well as providing a great review. The quizzes found after each video are useful at testing your knowledge. I went over Chad's videos once in the first week and on the third week repeated all of the quizzes. The tricky part about GC is that it's not all about concepts like Bio or OC; you also need to know how to approach the math and calculation questions. I think that is why I made such a high score–math, a subject I do like, was involved–and the only way to improve on your math skills is through practice. Qvault does a good job balancing the amount of concept questions and math questions; use it to practice on your timing and getting more exposure, not as an indicator. Although DAT Destroyer was immensely more difficult that the actual test, make sure you understand why you get questions wrong. Making mistakes is not as important as learning from them. Destroyer is not meant to be used as an indicator; it is just a book–use it just as a study tool. Knowing how to do the hard math questions will make you laugh as you destroy the easy ones on the DAT. 
Testing: The biggest surprise and score jump for me. There were a couple of lab questions I did not expect or study for, but you should be able to solve them. Know the concepts and know how to approach each math related questions and you will do great.
OC (24): Studied with Chad; Practiced with QVault and DAT Destroyer; Supplemented with old class notes
If I had to choose a science subject that I liked out of the DAT, it would be Organic Chemistry. My OC professor did a fantastic job presenting the subject. I studied OC the least out of the sciences because the information was still so fresh in my head–this allowed me to focus mainly on Bio and GC. Anything I was weak on, Chad presented and explained very well. The difficulty in OC comes from being able to apply your knowledge to seek the answer. It was like playing a problem solving game-connecting pieces of a puzzle. OC is a straightforward subject compared to Bio and GC-this reagent does this through this mechanism and gives this product. The key is to recognize what you are given, play detective and find out what happens or what happened. Questions will never be exactly the same like in Bio, but if you know how OC works you can predict the answer and pass with flying colors. Like always, Qvault for timing and practice and Destroyer for exposure. I went through Destroyer twice. Marked all of the questions missed in the first run and attempted them in the second run. There are a lot of reagents and reactions in OC, but just make sure you know the major ones, recognize the oddballs and just keep practicing. 
Testing: I was a little disappointed in my score as I aiming for a 25 or higher since OC was my best score in practice tests, but I'll settle for the trade for GC's score. The questions I got were basic and straightforward, maybe too basic-I was sad that they didn't have any of the fun reactions such as Grignard, Wittig, Aldol Condensation and such–the ones I actually studied for and solidly knew. Be able to recognize the major reactions and concepts and you will do great.
PAT (22): Intro with KBB; Practiced with CDP and Achiever (I see Qvault now has PAT practice tests)
I think to do well in this section is to think of it as a game; to improve your game you need to practice. In the first week I used KBB to introduce myself to each section of the PAT. Every day I would try to find strategies and techniques available on SDN to find one that worked best for me. Once I got a good grasp on each section I went straight into CDP. I was so stressed taking the first test that I could barely finish 2/3 of the first test. I seriously felt so sick I wanted to throw up and give up. I decided to take a day off to catch my breath, worked on my timing and kept on going. Don't overwork yourself. By the 5th test I was averaging 24-25 and perfected my HP and CC techniques. Don't expect to become better by taking one PAT test. Practice makes better.
Testing: I am disappointed in myself because I expected at least a 23 on the PAT section, but I screwed up on my timing because I was surprised by the difficulty of KH and PF; these sections took so long I panicked on the other sections. Keep calm and play the game like always.
KH
: Eliminate silly answer choices, visualize which faces to compare and choose the best answer. CDP is really easy because they don't take into account proportions. Achiever is difficult but it represented the DAT better than CDP. The KH I got on test day was somewhere in between the two. The image quality was horrible and not as pretty in the CDP. I got a couple of skewed looking images that made me really scratch my head. Narrow down the answer choices, check for proportions, go with your gut and move on.
TFE
: One of my stronger sections while practicing the PAT. The process of learning this section took the most time. Learn the rules, visualize each face, eliminate answer choices and choose the best answer. CDP was very good at preparing you for this section. Practice with Achiever and you'll be good to go.
AR
: In my opinion, one of the stupidest section ever. Why do I care if this angle differs by 3 degrees? My scores fluctuated many times as I couldn't decide on a good strategy. In the end I had multiple techniques to choose from if one didn't get the job done. I would first look at the answer choices and see which two to compare. Usually I would try to tackle the smallest and the biggest angles first. Methods I used were: Hill Technique (imagine riding a bike down one side of the angle), Slide Technique for obtuse angels (imagine if the angle was a slide, how steep the drop would be if you slide down), Rock Climb Technique (one leg acts as a vertical mountain and imagine how difficult would it be to reach the peak on the other leg), and Clock Technique for acute angles (one leg points to 12 o'clock and compare the minute hands). Experiment and choose a method that works for you or better yet, make a couple up like I did. On my DAT the angle legs were as long as two fingers. I was so used to comparing small legs found in CDP and Achiever that I had trouble distinguishing between longer size angles. Compare, eliminate and move on.
HP
: I used the Line of Symmetry technique found on YouTube. Before attempting the problem I would take a second to "validate" a hole before entering an "X" onto my board. If there was no fold or paper behind the hole I would enter an "O" to remind myself that it is "invisible". The "O" still gets reflected, but is not included in the answer choice. I used to take 12 minutes on HP but worked on my speed and got it down to 5 minutes. By the 5th CDP test I was getting near perfect scores. CDP prepares you well at perfecting your technique, but they do not prepare you for 1/3 folds found on the DAT-Achiever fills in this gap. On Test Day I made my grids for HP during the 15 minute tutorial. I had some really obscure holes where it was hard to decide which area the hole is actually closest to–it was like the hole was in the center of two possible holes. It could've been my imagination and adrenaline rush, but perfect your timing and technique and this should be one of your best sections. 
CC
: Most people use the Kaplan Tally Method, but I did not use anything besides counting with my fingers. I got pretty good to the point where I could be confident in my mental cube face counting and accuracy that speed was more beneficial than making sure all cubes added to the total number of cubes on a scratch sheet. I just needed to count 2-3 kinds of cubes, one at a time on my fingers and move on without relying on the scratch sheet. By the 5th test I was getting near perfect scores in less than 6 minutes. Use CDP and Achiever to perfect your techniques. The cubes on my DAT were very large compared to CDP and Achiever, but they were very easy to count faces and there were no illusion tricks. This section should also be one of your best.
PF
: This is one of my weaker sections. It takes me a long time to visualize how faces are connected. There are so many different possibilities, shapes and patterns they can ask you! My only strategy was process of elimination. If faces add up to a possible answer I would double check once to make sure and continue. On the test, I thought it was harder than CDP and Achiever, but do your best and carry on.
RC (23): Intro with KBB; Practiced with QVault
English and writing are not my strengths and I accepted that. I used KBB to understand how the section worked and then did only 5 QVault RC tests. QVault RC is a miserable and boring read; the passages are way too long and not science based, but the questions asked were of okay representation. There are many RC methods out there; search SDN and find one that works for you–it shouldn't take more than 3-4 practice tests to perfect your RC approach. I believe that RC and QR are just filler sections of the DAT- they are not as important as the science sections or PAT, but could be used to maximize your scores. Rather than worrying about how to make a high score in both sections I chose to maximize my mathematical strengths and minimize my reading weaknesses. I felt that a 1-2 point increase in RC does not compare to a 7-9 point increase in QR. I also thought reading as a skill cannot be improved in such a short amount of time. If I was not an avid reader to begin, I probably won't be in 3 short weeks, but I could definitely work hard and turn into a math wizard. Once I was comfortable with my reading skills I stopped completely and focused more on the other DAT sections. Weigh your opportunity costs and chose the right approach you think will most benefit your score.
Testing: I went in dreading this section the most, but I was lucky enough to have three interesting passages on my DAT. I do have a weakness in reading, but I enjoy reading scientific passages. I got passages on Antibiotics, Herbal Medicine and Fractures that were nicely structured to use S&D and interesting enough to keep my attention. Each passage was roughly 14 paragraphs long. There were maybe 3-4 tone questions per passage that can be easily answered. Quickly skim read, read the questions carefully and answer them calmly. 
QR (30): Intro with KBB and Chad; Practiced with QVault and Math Destroyer
I could be pulling an Asian card by saying I like math, but I believe that the QR section can be mastered by anyone willing to put effort into it. QR is basically about efficiency–recognizing the type of problem, identifying what the question is asking for and knowing how to solve it as quickly and as accurately as possible. To do that you need to practice on your speed and expose yourself to a variety of problems till you are confident in your math ability. KBB and Chad gives you nice overview on most concepts, but they lack depth. The only way to truly improve is through constant practice; with enough practice your math skills will become second nature. Math Destroyer does a great job in exposure to a variety of math problems. I did only 10 out of 14 Math Destroyer tests untimed. The reason why I did them untimed was to test which concepts I know well, find areas I need to work on, and to see if I could solve the problem without knowing the shortest route. Math Destroyer solutions were great at explaining problems as well as providing the right approach to solve the problem. Qvault on the other hand was used to practice timing and more exposure. Understanding why you get a question wrong and learning the right approach for the next time you encounter a similar question is key to doing well in QR. 
Testing: Question ranged from straight forward easy algebra problems to harder word problems, but nothing was impossible to find out through problem solving. Solve the easy questions quickly and save the harder ones you don't know how to solve for last. If you have time, a last resort is to plug and chug each answer choices to see if one works (I had to do this twice). Beware of laggy unresponsive calculators. Keep calm and stay focused. 
Practice Tests: Topscore, Achiever, KBB and ADA 2007
I substituted Achiever's PAT for Topscore's when taking my Test Bundles. Overall Topscore was definitely useful in improving your scores, but never take tests scores too seriously as there is no test that will accurately stimulate the real DAT than the DAT itself. As long as you show improvement, then you are one step closer to reaching a higher score on the real thing. If I had more time I would have gone through all of Achiever's sections as well as ADA 2009. I saved KBB and ADA 2007 for last and took both of them 2-3 days before my test as a confidence booster; ironically they were the closest match to my AA score! 
Test Day: On the day before my test I had a light study day of 5 hours. I reviewed Alan's Bio notes, Chad's GC and OC outlines, Orgo roadmaps, PAT techniques, RC strategies, and QR equations I complied into my DAT binder over the three weeks. I picked up my guitar after 3 weeks to just play a little and calm myself. I tried getting a good night's rest, but only managed to get 5-6 hours of sleep. I was nervous, but I did not fear the DAT. I think you are prepared when you get to the point where you are not scared of taking the DAT, but rather excited just to get it over with-FREEDOM was on the other side! My test was scheduled at 8AM and was about 40 minutes away from my house. I woke up at 6AM to get ready and ate two eggs and two toasts for breakfast. I wore a comfortable pair of jeans and a sweater. When I arrived at Prometric Center the staff was very kind and the process was very smooth, but the rooms were so cold! I could have sworn it was at least 60F; I could not stop shivering even with my thick sweater on! I was given two laminated scratch paper and two fine-point markers. At break I ate grapes and drank Gatorade, went to the restroom and exchanged for new scratch paper. The test overall seemed very doable; 5 hours was nothing compared to my study regime of 8-12 hours. Taking the test was just like going through any other day of my week, taking it one section at a time, focusing on the section at hand and moving forward. 
Final Thoughts: My dad always tells me, "When you put your mind to it, anything can be accomplished." I believed with my whole heart that through determination, perseverance and hard work I could achieve my goal. I can't thank my family and friends enough because they believed in me at times I thought I couldn't do it. Shout out to Glimmer1991 for being one of the only person who helped guide me towards how to study. I hope my breakdown is of some use or motivation to anyone willing to work hard towards their goal and pursue a career in dentistry. I plan to apply to all three Texas schools for Fall 2014 admission and will be working on my application soon. If you have any questions please feel free to ask! Thanks for reading and good luck!